We here at The LAMP constantly struggle with the hot topic known as "Internet Safety". Since our beginning, we have made it our goal to de-link the word "Internet" from the word "Safety". We've found that the association sets up the dialogue to immediately be about the dangers of going online, and leaves very little room for a healthy discourse about the different and pleasant experiences that can be had with digital media. In fact, we prefer the term "Cyber Wellness" when engaging this topic in our workshops, events and resources. When we speak to parents, families and youth, we try to dispel as many false notions or incorrect statistics that they've received from numerous sources, all the while engaging their apprehensions and insecurities (which usually has to do with a lack of awareness and knowledge of what is available to them). Concentrating the discussion solely on the ways we can keep our children and ourselves safe misses the opportunity to engage the idea of Why and How we use digital media (and how it uses us).
We also strive to offer a community-based, not-for-profit response to the more prominent, better funded corporate-based resources. In fact, when we participated in last year's inaugural NYCyber Safety Summit, we were the only local non-profit organization participated among a field of multi-million dollar corporations. Those groups have a vested interest in keeping the debate about "safety" and the risks involved in going online, because they can develop software, and filters and other devices they offer for sale that will purport to "keep your loved ones safe."  Not to mention the potential liability the likes of Microsoft, Google, Time Warner and Symantec face for providing tools and access to the Internet should a serious (though very unlikely) incident occur. This leads us to address Symantec's latest offering: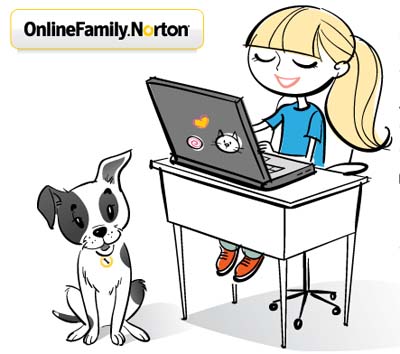 "Like most parents, you're concerned about what your kids are doing on the internet." (Do you see how they immediately frame the discussion as one where you should be concerned as opposed to be engaged?)
When you first visit the site, you are greeted with the three promises from Symantec: to watch, block and intervene. Easy enough. But how exactly? Thankfully, they've provided a video that shows exactly what they think you should be doing (we highly recommend you watch the video in order to follow a large portion of this post; click the link above to see the Flash video). You are introduced to a picture-perfect family in a picture-perfect house where each member of the family has their own computer or electronic device. But what's this? Joey is showing signs of concealing his online activity. What's a parent to do? With Symantec, Joey has a limited number of hours per week he can access the web, and needs to ask permission when he wants more time. (Although, Dad doesn't seem too concerned about why 10 hours a week isn't enough for his son to research his homework.) And, Mom can spy on young Claire's web searches and sites she visits about fad diets, and have a heart-to-heart about the grapefruit diet she tried when she was her daughter's age.
Hold on here. Isn't it a bit creepy how sterile and acceptable this form of monitoring is portrayed? Mom and Dad monitor activity as if they were over Claire's shoulder constantly. Wouldn't your daughter feel just a touch angry and violated if you "spied" on her and jumped to conclusions before giving her the chance to explain herself to you first? In the beginning segments of the video, a woman's voiceover declares that it feels like a full-time job "just to keep up" with what kids are doing online. If you are suddenly given access to every keystroke, every punctuation mark, every expression your child makes online, and you are then supposed to look at all of this, how is the job made any easier? What this is suggesting is that you need to monitor not just your child's online conversations but EVERY conversation they partake in with friends, relatives, teachers, etc.
This is all very troubling, but unfortunately not the most troubling aspect of this product launch. For the foreseeable future, Symantec has pledged to make this software free to those who download it. Our first question whenever a for-profit corporation provides anything free is "Why?" followed quickly by "How?". Unfortunately, at the current moment, we cannot offer explanations for the why, but when you dig deeper into their Privacy Policy, you can begin to understand why they offer this from their bottom of their altruistic, corporate hearts:
Information we collect that does not personally identify you or your children as individuals (e.g. utilization patterns) is exclusively owned by Symantec and may be used in such a manner as we deem appropriate.
We will communicate with you and your children using the email addresses you provide to us and by notices posted on our website.
We may also from time to time send you promotional information unless you have opted out of receiving such information.
This company has a multi-million dollar annual budget, so what do you think it does with the statistics and demographics it compiles from the users of this "free" service? And still, the information they collect goes further:

Once your child is setup in our service, our client software (which runs on your home computers) will collect information about your children's online activities.
This includes information about:
the websites your children visit and those that we block them from visiting.
the online chat screen names they and their friends use, time spent conversing online and in certain situations the text of the online conversations themselves.
the online search terms your children use
your children's social networking activity
the amount of time your children spend using the computer and online.
This information will be stored on our servers in the United States and is used to report to you summary information about your children's online activities.
Surely, they will only use it to report to you your child's online activities. For free. For real?
The biggest problem we have with this latest "fix" from Symantec is the same problem we have with any corporate effort to address our digital lives: a lack of engagement.
They are not talking to families, to parents, to youth about their uses of media, and they are certainly not engaging the overall saturation of media that has drenched our lives. The idea is that kids are the problem, the way they use the Internet is "wrong," and parents–regardless of how well they understand new media themselves–know what's best. This is where we hope to offer a tangible and realistic advocacy for honest and healthy online interaction in our workshops, events and resources. Parents and kids need to come together, to explore media together, and to engage in a meaningful exchange about how to use new media. Installing spyware is not enough.